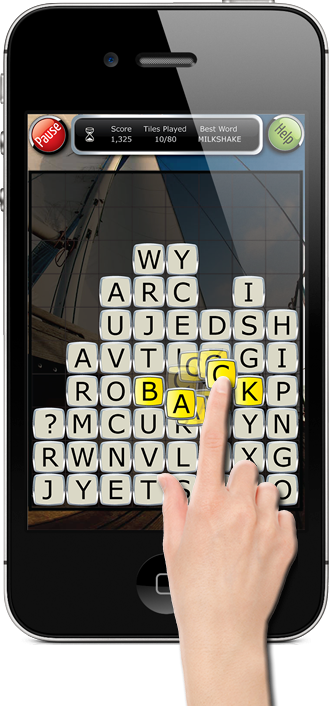 Back & Forth is unlike any word game you have ever played. Highly addictive, remarkably innovative this is not your mamma's word search!

Use the power of gravity, in every direction to dynamically change your board as you spell words forward, backward, vertically, horizontally & diagonally. With a simple twist of your device, gravity pulls on the tiles and drops them in new patterns.

Rearrange your tiles further through the signature "Back & Forth" move where one simple swipe forces two tiles to swap places.

Simple? Yes.
Challenging? Absolutely!

Play as an individual to hone your skills

Or play the 3 Minute Daily Challenge to refine your lightning quick reflexes

And then play against an opponent to show them how much words can hurt!

Back & Forth features:

• Completely new word game design concept
• Tiles respond to rotation of the board falling and forming new words
• Back & Forth motion to swap tiles
• Single Player mode offers 24 uniquely hand crafted puzzles!
• Daily Mode offers a new challenge every day where you have just 3 minutes to post your best score online against the world!
• Two Multiplayer Modes offer friends or other game center players an exciting twist where a shared board is wiped out by both players at once!
• 21 Game Center Achievements!
• 24 Game Center Leaderboards!
• Beautiful custom music and sounds effects by Dren McDonald!
• iPhone 4 High Resolution Graphics
• Unique iPAD interface, but still the same great game play, all in one package!